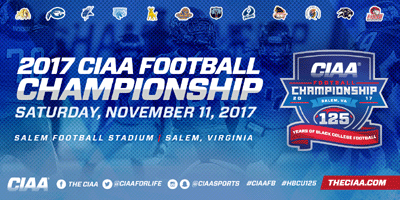 Charlotte, NC (September 19, 2017) - The Central Intercollegiate Athletic Association (CIAA) will host its 2017 Football Championship game at Salem Stadium on Saturday, November 11 in Salem, Virginia. Kickoff is slated for at 4:30 p.m. ET.

Last year, the City of Salem warmly welcomed the CIAA and nearly 3,500 of the conference's fans during its first football championship appearance there.

In addition to great football action between the Northern and Southern Division Champions, this year's championship game day will feature a free Fan Zone filled with giveaways, contests for prizes, interactive activities, food tastings, appearances from the cheerleading squads and drumlines of the competing schools, and more; creating a fun-filled atmosphere for all to enjoy.

Advance general admission tickets to the Football Championship are $15, advance reserved $25, and can be purchased at Ticketmaster.com. Special rates for students with school IDs and youth will be available the day of the event. Admission for children ages 5 and under is free.

"In addition to celebrating the 125th anniversary of Black college football, our conference is thrilled about returning to Salem and hosting our annual football championship game," said Commissioner Jacqie McWilliams. "We're looking forward to enhancing the CIAA experience for our students, alumni, fans and the community by adding a Fan Zone this year's festivities."

Parking and tailgating are free, and fans are welcome to begin tailgating at 10 a.m. on November 11.

If you cannot make the trip to Salem, VA for the 2017 Football Championship, then you can tune in nationally to catch all the game day action on ASPiRE TV. Check your local cable listings for availability.

For more information about the 2017 CIAA Football Championship please visit, TheCIAA.com.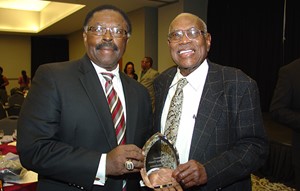 VUU Honors Willard Bailey at Banquet

9/15/2017 | Football

PHOTO GALLERY | Virginia Union University honored longtime football coach Willard Bailey in a banquet held in his honor at the Dr. Claude G. Perkins Living and Learning Center on the VUU campus in Richmond, Va., on Friday, September 15.

The banquet, which was emceed by Roanoke, Va., Mayor and former VUU football player Sherman Lea, brought together many former players of Bailey's, including former NFL player Herb Scott.

Bailey became an assistant football coach in 1964 under the legendary Thomas "Tricky Tom" Harris. In 1971 Bailey took over as head coach of the Panthers and would collect a school-record 151 coaching wins between 1971-83 and 1995-2003.

Bailey never had a losing season between 1971 and 1983 while Virginia Union had a streak of 21 straight winning seasons (1971-91).

Bailey took VUU to the NCAA Division II Football Playoffs five straight times.

Virginia Union will meet Winston-Salem State University in the First Annual Willard Bailey Classic at 6:00 p.m. on Saturday, September 16, in Hovey Field in Richmond, Va.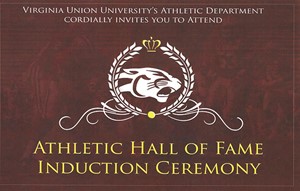 VUU Hall of Fame Induction to be Held Friday

9/17/2017 | General

Virginia Union University has announced that six former players, coaches and supporters will be inducted into the VUU Athletic Hall of Fame at a banquet to be held on Friday, September 22, in the Dr. Claude G. Perkins Living and Learning Center on the VUU campus in Richmond, Va.

Andre Braxton, Wanda (Hobbs) Gill, the late Lou Hearn, the late Benjamin Lambert, Dr. Thomas Loughran and the Honorable William Ormsby will be inducted.

Tickets are $45 apiece or $400 for a table of 10 and are on sale now in the Office of Institutional Advancement in the C.D. King Building and online at Eventbrite.com.

Polo shirts for previous Hall of Fame inductees will be available at the banquet for $25.

ANDRE BRAXTON
FOOTBALL
Andre Braxton re-wrote the Virginia Union University football record book when he played for the Panthers from 1997 to 2000. He gained 5,008 career yards, scored 63 rushing touchdowns, rushed for 1,660 yards in 2000, and 28 rushing touchdowns in 2000 alone.

Braxton won the Alonzo "Jake" Gaither Award, otherwise known as the "Black Heisman" in 2000 and was All-CIAA for four straight seasons, including the CIAA Player of the Year Award in 2000.

WANDA (HOBBS) GILL
WOMEN'S BASKETBALL
While at VUU, Wanda played for the Lady Panthers under the late Coach Mr. Lou Hearn. In 1984, Wanda's freshman year, the Lady Panthers reached the Division II National Championship. Wanda graduated from VUU with a Bachelor of Arts Degree in the Division of Social Sciences, Cum Laude. After graduating from VUU, Wanda worked for the Department of Child Support Enforcement in Richmond, Va. She led the team in scoring and rebounding her senior season (1986-87), averaging a double-double in both categories (11.8 points and 10.4 rebounds per game).

LOU HEARN
WOMEN'S BASKETBALL
Lou Hearn guided the Virginia Union University Women's Basketball Team to the 1983 National Championship. He took over the program after the death of Thomas "Tricky Tom" Harris during the 1982 CIAA Championship Game. During his six seasons as the head coach of the Lady Panthers, Hearn compiled a won/loss record of 96-61, including three seasons of 20 or more wins.


BEN LAMBERT
SUPPORTER
Lambert was born in Richmond, Virginia on January 29, 1937. He received his undergraduate degree from Virginia Union University and a graduate degree from the New England College of Optometry. He began practicing optometry in Richmond in 1962.

In 1977, Lambert was elected a Member of the House of Delegates from the Richmond-based 33rd district. In 1985, he was elected to the Virginia Senate representing the 9th Senate District, which included all of Charles City County, and parts of Henrico County and the City of Richmond. He was the first African-American in the 20th Century to serve on the Virginia Senate Finance Committee. During his senate tenure, Lambert served on a number of committees, including Education and Health, General Laws, Privileges and Elections, Senate Finance, General Government, and Health and Human Resources. Additionally, he chaired the Subcommittees on Higher Education and General Government, the Brown v. Board Scholarship Commission, and the Lead Abatement Subcommittee.

Lambert served as Secretary of the Board of Trustees of Virginia Union University and Virginia Commonwealth University's Health Systems Authority Board. He also served as a Director of Consolidated Bank & Trust Company and USA Education Inc. He served on many different boards like The Benedictine College Preparatory and other schools.

DR. THOMAS LOUGHRAN
ALL SPORTS
Loughran was introduced to Virginia Union by long-time team doctor Dr. Walton Belle in 1988, and Loughran has been the team doctor to VUU student-athletes since that time. Dr. Loughran is an orthopedic surgeon in Richmond, Virginia and is affiliated with Virginia Commonwealth University Medical Center. He received his medical degree from Virginia Commonwealth University School of Medicine and has been in practice for more than 20 years. He is one of 20 doctors at Virginia Commonwealth University Medical Center who specialize in Orthopedic Surgery.

WILLIAM ORMSBY
TRACK, TENNIS
Ormsby ran track and played tennis for VUU between 1954 and 1957. During that time he competed in several regional events, including the Morgan State Relays. He qualified for the 100-yard dash and graduated from VUU in 1957.

Ormsby was the President of the Alpha Kappa Mu National Honor Society inn 1956-57 and VUU Student Body Vice-President in 1956-57.

From July 1981 until 1997, he was appointed to serve as a judge in the California Municipal and Superior Courts.

He retired from the bench in 1997.
Football
Winston-Salem State Outlasts VUU 21-20

9/16/2017 | Football | Box Score

Virginia Union University's Darius Taylor passed for 127 yards, but Winston-Salem State outlasted the Panthers 21-20 in the First Annual Willard Bailey Classic on Saturday, September 16, in Hovey Field in Richmond, Va.

The game, a non-conference match-up between two CIAA teams, saw the lead change three times.

Taylor completed 11 of 17 passes, with Lavatiae Kelly being his favorite receiver. Kelly had five catches for 67 yards.

Taylor was also the Panthers' leading rusher, with 86 yards on 14 carries.

On the defensive side, VUU's Sterling Hammond had two interceptions while teammate Tevin Gordon led the Panthers with nine tackles.

The loss dropped Virginia Union to 1-2 on the season while Winston-Salem State is now 2-1.

The Panthers begin CIAA conference play when they meet Fayetteville State University at 1:00 p.m. on Saturday, September 23, in Hovey Field in Richmond, Va.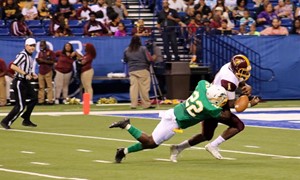 Football Looks to Extend Winning Streak Against CSU in Circle City Classic

9/21/2017 | Football

Game Notes | Live Stats | Live Audio
Frankfort, Ky.-Kentucky State University football will look to extend its nine-game win streak against rival Central State University in the 34th annual Circle City Classic at Lucas Oil Stadium in Indianapolis, Indiana on Saturday, Sept. 23rd at 3 pm ET.

The last time KSU fell to CSU was back in 2007, since then KSU has dominated the battle of SIAC West Division foes, including a thrilling 17-14 overtime victory a year ago. Through the duration of the rivalry, the Marauders hold a significant series lead at 35-21-1 from when the annual game began back in 1947.

The Circle City Classic and the rivalry with CSU holds significant meaning to both fan bases, and as head coach John L. Smith explains, it's important for the Thorobreds to maintain poise against a conference opponent with bragging rights on the line.

"It's a great experience for our players," said Smith. "We look forward to it because we know it's a great event and a fun atmosphere. But, we must prepare ourselves and our players not to get distracted. We want to come home with a win."

KSU is coming off its first win the season, with a 30-23 defeat of in-state opponent Kentucky Wesleyan College on Sept. 16th. The Thorobreds rode the momentum of an aggressive defensive line, sacking the Panthers quarterback seven times, along with the play of sophomore running back Brett Sylve accounting for 100 yards rushing and a special teams touchdown.

Senior defensive end Rodriquez Jones is coming off one his most dominant performances as a Thorobred, leading the defensive line with seven tackles, three tackles for a loss, including two sacks. On the other side, Sylve was named the SIAC Newcomer of the Week for the first time in his young career. He currently leads all of the conference in all-purpose yards with 650 yards, averaging 216.7 yards per game. His two kick returns for touchdowns also leads all of the SIAC.

The Circle City Classic is a collaboration between Indiana Black Expo, Inc. and the Indiana Sports Corporation. The net proceeds from the Classic help support youth initiatives for each organization. Additionally, each year the Classic's educational partner, the Indianapolis Black Alumni Council, hosts an educational college fair that exposes over 2,500 youths to colleges and universities throughout the country.

Tickets are on sale now at ksuthorobreds.com or by calling the KSU ticket office at 502-597-6011. For fans not attending the game in Indianapolis, a radio broadcast will be provided on campusnation.com.
Track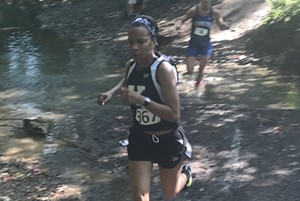 Cross Country Turns in a Hopeful Showing at the Berea Invitational

9/17/2017 | Men's Cross Country


Berea, Ky.-Kentucky State University men's and women's cross country competed in the Berea College Mike and Mary Kay Invitational on Saturday.

Both squads finished in the bottom third of the overall team standings, but according to head coach Fatimah Shabazz, it was a tune-up after some early year limitations.

"I am very proud of the hard work and determination that our Thorobreds and Thorobrettes showed this weekend," said Shabazz. "It was our first meet compared to other teams second or third. We went into the meet knowing that we were freshly back from injury and sickness, but it didn't stop us from showing a lot of heart out on the course. We have two weeks to adjust and fix a few training errors."

Senior Brianna Patterson led the way for the Thorobrettes with a finish of 24.03.2, improving her average time from a season ago in the 5k, at 26:12.3. Patterson will look to improve in the coming weeks, aiming to surpass her personal best from last season's SIAC Championship time of 22:54.29.

Sophomore transfer Cameron Galloway turned in a successful debut for the Thorobreds as he set the pace with a time of 28:48.7 in the men's five-mile run. His finishing time slotted him at the 19th position overall, with 103 participants.

Next up for KSU will be the Greater Louisville Classic on Sept. 30.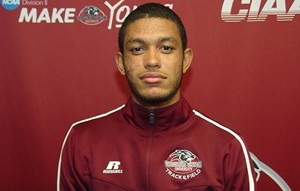 Men's Cross-Country Edges VSU in Trojan Invite

9/22/2017 | Men's Cross Country

Virginia Union University's men's cross-country team stunned home-standing Virginia State University in the 2017 Trojan Invite, held Friday, September 22, on the VSU campus in Petersburg, Va.

The Panthers edged the Trojans by one point, 31-32 to capture the event championship.

VUU's Luis Nieves captured top individual honors with a time of 28:06 over the eight-kilometer course. Teammate Anthony Wimbish was third with a time of 28:32.1.

Virginia Union's Arthur Casey placed fourth with a time of 28:50.3 while Charles Whitehead was 10th with a time of 30:44.7.

VUU's Tyrell Harrison was 13th with a time of 32:06.7 and Jeremiah Wallace was 14th with a time of 32:07.4.

Team Standings:
Virginia Union 31
Virginia State 32
Elizabeth City State 67
Washington Adventist 115
Volleyball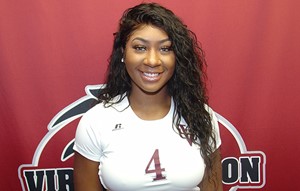 Volleyball Registers Win at CIAA Round-Up

9/18/2017 | Women's Volleyball | Box Score 1 | Box Score 2 | Box Score 3

Virginia Union University's Jayshil Oatley recorded a team-high 12 kills as the Lady Panthers defeated Saint Augustine's University 25-21, 25-21, 20-25, 25-21 in the first CIAA Volleyball Round-Up, held on September 23-24 in Winston-Salem, N.C.

In three matches, VUU went 1-2, defeating St. Augustine's while losing to Shaw University 25-17, 25-14, 25-15, and Winston-Salem State University 25-16, 25-15, 25-17.

In the three matches, Oatley, a sophomore from Kent, Wash., collected 28 kills and 26 defensive digs, including a team-high 12 digs against Saint Augustine's.

VUU's Mumbi Murugi-Kamau had five service aces against Saint Augustine's.

Virginia Union's Ambryanna Moore also had 10 kills against the Falcons.

The Lady Panthers are now 3-4 overall and 1-2 in the CIAA.

VUU now travels to Lincoln University, Pa., to play Lincoln University at 6:00 p.m. on Thursday, September 21.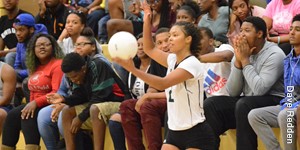 Volleyball Goes Undefeated Through East/West Crossover

9/23/2017 | Women's Volleyball | Box Score 1 | Box Score 2

Birmingham, Ala. - Kentucky State University volleyball finished off the third day of the SIAC East/West Crossover by repeating its performance from the first and second day, by sweeping through the competition and coming out undefeated.

The Thorobrettes (10-5, 6-0) took down both Fort Valley State University and Albany State University, facing adversity in only two of six sets on the day. KSU will face off with the western side of the division with the SIAC Cluster at Central State University from Sept. 29th-30th.

Before heading to Wilberforce, Ohio for the cluster, KSU will take on West Virginia State University at the Exum Center on Tuesday, Sept. 26, first will be at 6 pm ET.

KSU 3 FVSU 0

Freshman outside hitter Robin Poole continued her hot stretch of leading the Thorbrettes offensively, by slamming a team-high nine kills against the Lady Wildcats. She stepped up defensively as well, accounting for a team-high eight digs.

The Lady Wildcats failed to threaten the Thorobrettes, only leading a handful of times throughout the match, and each lead didn't surpass the two-point threshold.

Sophomore setter Hannah Smyers continued to remain in the top-10 of the assists category within the SIAC as she recorded her fifth match of six in the Crossover with 25 or more assists, dropping 28 on FVSU.

KSU 3 ASU 0

The first two sets went in favor to the Thorobrettes as 10 or more points decided each win. In the third and final frame, the Golden Rams rallied to challenge KSU but ultimately dropped the set 25-22.

Poole racked up her eighth contest of the season, recording 10 or more kills, finishing the sixth and final match of the three-day event with a team-high 12 kills. She also picked up her fifth double-double of the season, accounting for 10 digs.

Fellow freshman outside hitter Makayla added to the offensive onslaught with eight kills of her own, while digging a team-high 14 balls in the process.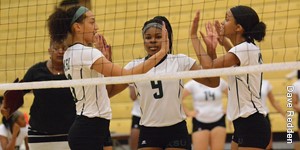 Nine up, Nine Down as Volleyball Sweeps Through Day Two of Crossover

9/22/2017 | Women's Volleyball | Box Score 1 | Box Score 2 | Box Score 3


Birmingham, Ala.-Kentucky State University volleyball took the second day of the SIAC East/West Crossover by storm, sweeping nine straight sets for three wins against the likes of Clark Atlanta University, Paine College, and Benedict College at the Birmingham Crossplex on Friday.

The Thorobrettess (8-5) have now won four straight matches against conference opponents, and sit atop the west division standings.

KSU will close out the Crossover with two matches on Saturday against Fort Valley State University and Albany State University, beginning at 8 am ET and closing the day out at 12 pm ET.

KSU 3 CAU 0

The first set featured 14 ties and eight lead changes, as freshman outside hitters Robin Poole and Makayla Martin combined for nine kills in the 25-23 victory.

The aggressive play by KSU continued into the second set, as the Thorobrettess prevailed 25-15. In the third and final frame, KSU and CAU went back and forth in the early going for five ties and four lead changes up till a score of 13-13, but KSU pushed forward with a 6-3 stretch, to eventually close out the Lady Panthers, 25-22.

The tandem of Poole and Martin led the way for the Thorobrettess, as each registered double-doubles. Poole picked up 15 assists and 10 digs, while Martin racked up 12 digs and 11 kills. The double-double by Poole marks the fourth of the season for the Katy, Texas native.

KSU 3 PC 0

The Thorobrettes controlled from beginning to end, leading each set by double-digit points at various positions within the match, outscoring the opposition 51-21.

Communication errors cost PC, as KSU tallied 13 aces including five in both the first and second sets.

Poole notched her eighth match of 2017 where she led the Thorobrettes in kills, accounting for a team-high 13 in the victory.

Sophomore Hannah Smyers notched a team-high 19 assists and had registered double-digit assists in every match this season.

KSU 3 BC 0

Junior middle blocker Landri Greathouse paved the way for KSU in the third and final match of the day, as she notched a team-high 10 kills.

KSU outlasted the Lady Tigers 51-33, as the two battled throughout each set. The Thorobrettes jumped on every opportunity as BC committed 30 errors in its second match of the day.

Defensively, freshman libero Gabriella Garcia turned in her best performance of the season with a career-high 22 digs.